The catering industry is a fast-moving sector, and there's certainly a lot going on at the moment. Changes in legislation will start to affect the industry later this year and early in 2015, so it pays to be aware of forthcoming regulations well in advance of their introduction.
There are also some exciting trends in restaurant development – 2014 promises to be an interesting year for the industry.
Health, quality and food sourcing influence diners
Organic trends via Flickr
Although there are signs of recovery in the catering industry, a consumer survey conducted online by YouGov recently also shows that consumers are increasingly concerned about the quality of their food, where the ingredients are sourced, and how 'healthy' it's perceived to be. These concerns are affecting many people's decisions to eat out.
Allergies are also an important consideration for many diners, with over half of respondents (54%) saying that they welcome the changes to the law anticipated for the end of 2014, which will require restaurants and other catering establishments to give more detail about the ingredients used in the dishes they serve.
Knowing the where the ingredients in a dish came from was important to 56% of the people surveyed, while only 42% believed that provenance of ingredients was unimportant.
Electrolux supply Café Football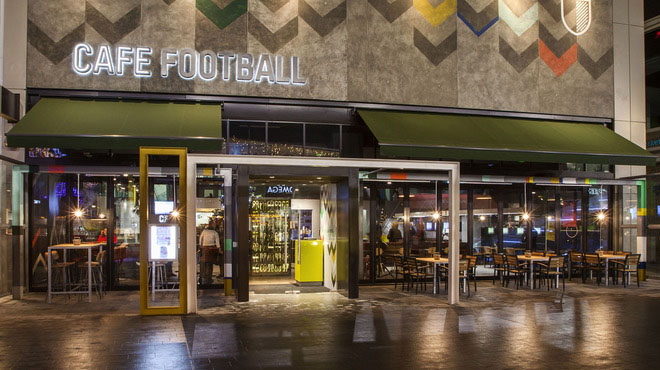 Café Football owned by Ryan Giggs and Gary Neville
Football fans that combine hero-worship with a really good meal at the recently-opened Café Football at the upmarket Westfield Stratford shopping mall are now benefitting from the restaurant's installation of Electrolux appliances and equipment. The high profile eatery has attracted media attention for its unashamedly football-crazy theme, but also for the standard of the food on offer.
Café Football has installed several high end pieces of catering kit, including touch screen Ecostore refrigeration cabinets, an air-o-steam Touchline combi oven, a green and clean dishwasher with Energy Saving Device, and a patented Icy Hot power grill that comes complete with refrigerated drawers and fryers and fully mechanised oil filtration.
All-day dining set to take off in the capital
The Strand Dining Rooms will have the look of a Pullman coach. Image via Flickr
All-day dining is coming to London's West End with the opening of the unashamedly British Strand Dining Rooms in May, an 180 cover restaurant which will be opening as part of the development of 1-3 Grand Buildings on London's Trafalgar Square. Carrying on the British theme, the interior will be based on the interior of a traditional Pullman coach, and the menu will feature a combination of contemporary and traditional British food.
All day dining has taken off in London recently, with restaurants such as the Duck and Waffle and Urban Meadow also offering food around the clock to cater for apparent consumer demand.
Energy Performance Certificates for Refrigeration Equipment
Back in 2009, it was decided that in the future all refrigeration products should be ranked according to their performance, on an A-G scale like the ratings system already being used for domestic appliances. The move is seen as being good news for businesses that are keen on keeping their carbon footprint as low as possible, as well as saving themselves cash on appliance running costs and fuel economy. From 2015, your refrigeration equipment will be graded according to its environmental performance, making it easier for you to choose the most efficient refrigeration equipment for your needs.
English-Russian Restaurant for West End
The Champagne button at Bob Bob Ricard, Leonid Shutov's first restaurant venture via Flickr
Another grand opening for Londoners to look forward to is Biblioteka, the library-inspired restaurant planned for the former Lloyds Bank flagship branch in St James's Street. Featuring a private dining room and a vintage champagne bar, the £15million venture will be one of the largest restaurants in the UK, costing over £9million just to fit out. The man behind the restaurant is Russian Leonid Shutov — founder of Bob Bob Ricard restaurant in Soho, which, in 2009 was named one of the World's 50 Coolest Places to Eat by The Guardian.